North Shore is a region just north of Duluth Minnesota that preserves a land of forests and rocky shoreline all along the largest freshwater lake in the world, Lake Superior. The town has its history deeply rooted in the timber and iron ore industry. Today, it is a popular tourist attraction and port town. A walkout along the concrete breakwater to the lighthouse offers a great vantage point to watch iron ore vessels pull in and out of the historic port and the stretches of rocky shoreline provide a nice place for a walk or picnic.
The town has antique stores, tourist shops, and good eating such as that that can be found at the Vanilla Bean. A quick perusal of the menu will show you a nice selection of omelets in the more regional fare of pasties and lingonberry items but all of their meals are equally fulfilling. Within driving distance of two harbors are two of the more authentic establishments along the North Shore Russ Kendal's and B.E. Nelson's.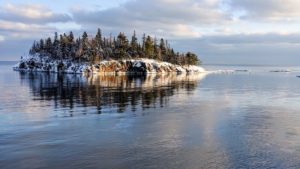 As you drive down old scenic highway 61, an ornately carved wood cabin will catch your eye. This workshop is the gift store of silversmith Brad Nelson. Before you enter, you want to take the time to appreciate his intricate wood carving inside. You'll find an art that is reflective of Minnesota's Scandinavian culture as well as local ethnic art. Much of the authenticity comes from the fact that it is either imported directly from Europe or crafted by local artisans. A stop here gives you a chance to appreciate quality handcraft and purchase a very unique gift. Regardless, it is one of the most unique shops you are likely to see in your travels.
Any Minnesotan will attest to the fact that you haven't tasted smoked fish until you visited Russ Kendall's – a family-owned and run business. They carry such smoked fish as trout, herring, salmon, and Goldie's. The family will help you find the perfect fish for your tastes. Such food connoisseurs as Andrew Zimmerman have sung the praises of this place. Come visit and see what it's all about for yourself.
Arguably, the most majestic of locations along the North Shore is a cliff known as Palisade Head. Located in the Teddy Coupe State Park, the sheer cliff towers 300 feet above Lake Superior and attracts climbers and sight seekers. From this vantage point, you can feel the immensity of the water making superiors seem more like a giant glacial ocean than it does a lake. While visiting, you will want to be very mindful of your step and be sure to bring your camera. It is one of our planet's most breathtaking views.
The North Shore is famous for its natural campgrounds, hiking, and water trails such as can be found at Cascade River State Park. This is an area through which the mighty river cuts down to the shore below. You can admire the mighty power of this River face-to-face and take a seat along the ancient Cascades and waterfalls. Even in the more popular seasons, you'll have no difficulty in finding some time alone to reflect on natural wonders.
One of the main hubs along the North Shore is a town of Grand Marais. As can be seen by any number of its art venues, it's a town that both promotes and appreciates the work of the artist. The beachfront is such a place where you can experience the land water and North Shore weather. Even draped in fog, the town assumes a cozy feel but in just an hour or two that fog can be gone and you have a beautiful day before you. The place feels as though it conforms to the rules of nature flowing with it in North Shore harmony.
Well, this has been only a sampling of what you can discover on the North Shore. From its natural wonders, unique shops, and historic places, you can see that this region is one that offers an appeal to many. You will want to be sure to put the North Shore of Minnesota on your list of top destinations.